Event ideas for trade fairs
It's not always easy to stand out from the crowd. This is particularly true when it comes to the hustle and bustle of a trade fair. Yet interactive event concepts like a mobile casino are guaranteed to attract the attention of visitors and potential customers.
We can provide an individualized selection of gaming tables and a suitable supporting program that will create a communicative atmosphere with a very special dynamic - either during the fair or as a casual get together at the end of the day. This will make it easier for you to start chatting to your visitors, exchange ideas and network with them.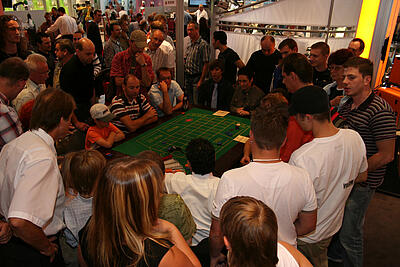 We'll support you throughout the planning stage and make sure the mobile casino experience fits seamlessly into your trade fair concept and results in satisfied visitors.
You can put together your own selection of gaming tables and modules to best suit the character of your stand. If you don't have much space available, don't worry - we have plenty of compact solutions to suit every stand. For instance, a roulette or craps table will act like a magnet, drawing in crowds and sparking casual conversations. Craps only requires a floor space of 7 m².
Depending on the terms and conditions of the trade fair, our hawker's tray girls can distribute branded play money around the exhibition grounds to tempt potential customers to visit your stand.
Past trade fair events